PBA Applications for Privilege Manager
Once you have setup Privilege Manager and Privileged Behavior Analytics to work together, you can begin normal operations.
Click Privilege Manager in the left navigation panel.

The available tools include:
Analytics Dashboard provides drill-down quadrants for: User Details, Application Details, Most Active Users, Most Active Applications, Top User Graph, Top Application Graph, and a Temporal Heatmap. Refer to Privilege Manager Analytics Dashboard.
Applications are reported for Application Clock, Application Graph,Application IP Map, Most Active Applications, and Most Active Users.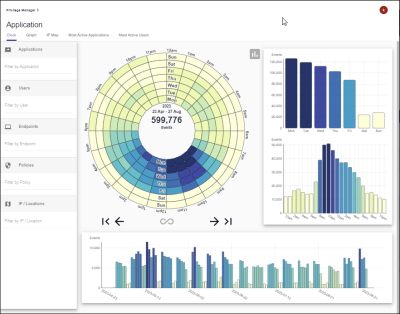 Details provide analytics for Applications, Users, Endpoints, Policies, and IP Addresses.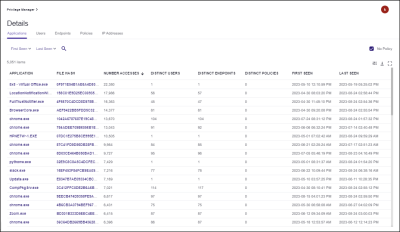 These tools summarized in the table below.
If you are already using PBA for Secret Server, select the Privilege Manager Analytics menu. If you are using PBA for Privilege Manager only, your Privilege Manager Analytics Dashboard opens by default.